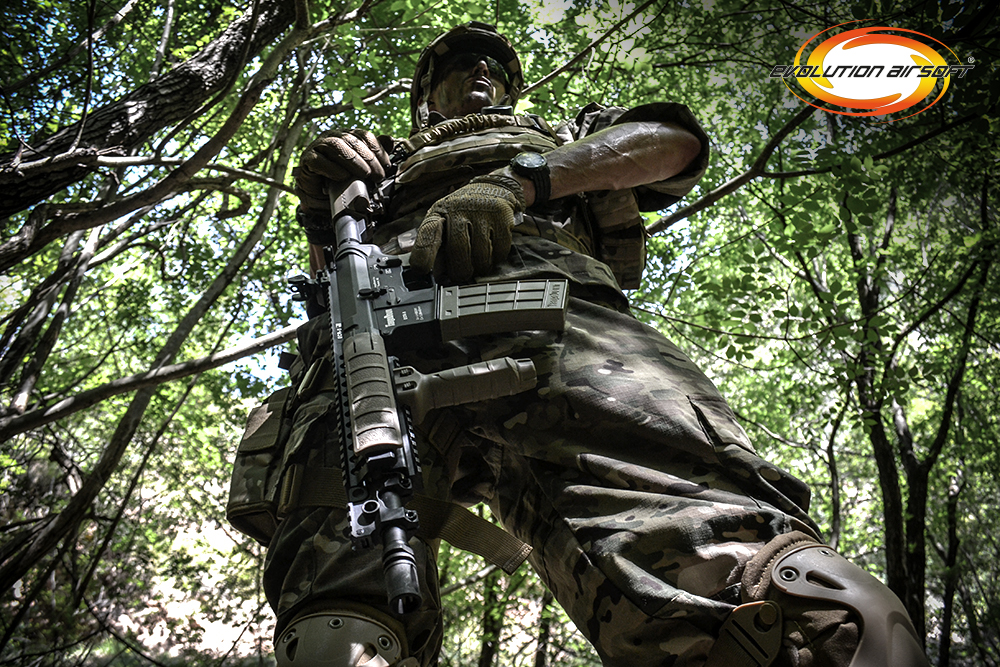 Evolution Airsoft
The Evolution brand redefines the quality/price ratio within the airsoft industry by merging top quality products, ultimate realism, high performance to competitive prices.
Evolution earned on the battlefield an always growing number of enthusiasts.
The Hardcore Series are the top-class products within the Evolution airsoft guns line.
These guns are designed to meet the demand for superior-quality products coming from professional airsoft players looking for performance and ultimate realism.
For their sophisticated technical features the Evolution Airsoft Hardcore Series guns are the state of the art in the airsoft industry.
The ultimate realism, the worldwide exclusive licensed real gun trademarks, the perfect finishing and attention to details make the Hardcore Series the most wanted item also by collectors.
The Combat Series air soft guns are designed for those players looking for great value for money products. They offer right out of the box what most of the other brands sell as "upgrades" or "option parts".
Don't be surprised when you open the box to see a load of extra accessories included along with the gun.
The Combat Series air soft guns are the best choice for those wargame players looking for reliable, performing, complete, yet affordable products.
The Evolution option parts, accessories and high performance batteries are compatible with most of the brands today available on the market.
To keep your guns' performance always at the top we recommend to use only the original Evolution cleaning and maintenance products.
Combat Series
Lone Star Edition
About the series
The new Evolution guns come with real Cerakote® finish, the special coating for real guns made using ceramic particles.
Each gun is delivered wih an Hexmag® 120BB magazine. The Hexmag magazines are made under exclusive license.
The finish and detail level of these guns are impressive.
All guns are full metal and feature the real gun markings of Lone Star Tactical, U.S.A. made under worldwide exclusive license.
In the color models the Cerakote is applied also on pistol grip, vertical foregrip and retracatable stock for a perfect color matching.
This new guns line includes short barreled rifles, middle lenght barreled rifles, and as the new trend wants, very long barrel rifles.
These guns are a great value for money and come with a load of extra accessories included as standard. Each gun comes with extra sights, vertical grip, extra rails and Keymod accessories.
Customers can choose from a big variety of Cerakote colors: Knights Armament Tan, Magpul Tan, Warsport Green, Wolf Grey, and for an increased realism all come with magazine catch lever, charging handle, bolt release lever finished in Cerakote Cobalt Black.
Various models are available in an exclusive water transfer camo pattern.
A great technical innovation is the new fast detach system that allows full access to the motor without any tool.
In the same way for a quick spring change it is just enough to remove the buffer tube without taking out the gearbox from the body.
Technical Specs
Licensed trademarks
Unique serial number
Original Cerakote® antiglare and protective treatment (depending on the model)
Water Transfer treatment (depending on the model)
Full metal
High torque motor
Folding battle-sights
Aluminum rail system
Outer barrel unique piece
Thanks to the aluminum quality, the replica is surprisingly lightweight
Precision inner barrel 6.01
Ferrule Hop Up in ABS, perfect for low temperatures
Standard delayer
Reinforced gear box
Reinforced steel gears
Piston with steel teeth
Gear box with quick detach spring guide, accessible by removing the buffer tube
8mm radial ball bearings
Innovative grip that allows reaching the motor with no additional tool
120 BB midcap magazine with original Hexmag® license
Lipo Ready
Video tutorials
Evolution Recon
About the series
Evolution keeps expanding its line of professional air soft guns, now with the brand new Combat Series Recon.
The Recon is available in 34 different versions which differentiate each other by the barrel length, rail system, muzzle device and color.
Carbontech Technical Specs
Unique serial number
Carbontech Body
High Torque motor
Folding battle-sights
Aluminium Rail System
6.01 Precision Barrel
Reinforced Gearbox
Reinforced Steel Gears
Sector Gear Delayer
Steel Teeth Piston
Quick Removable Spring-Guide
8mm Steel Bushings
Tool-less access motor grip
300BB Magazine
Metal Technical Specs
Unique serial number
Full Metal
High Torque motor
Folding battle-sights
CNC Aluminium Rail System
One Piece Outer Barrel
6.01 Precision Barrel
Reinforced Gearbox
Reinforced Steel Gears
Sector Gear Delayer
Steel Teeth Piston
Quick Removable Spring-Guide
8mm Radial Ball Bearings
Tool-less access motor grip
300BB Magazine
Video tutorials
Accessories
E.T.S.
E.T.S.™ Electronic Trigger System
The Evolution Airsoft E.T.S.™ is an advanced device using state of the art technology compatible with most V2 gearboxes without the need of any modification.
Before its release in almost 2 years of developement it went through a number of improvements and modifications from its original design and the version we are now releasing is actually the Third Generation with several hardware improvements and V5.2.3 software run by our very powerful CPU and supported by our Oversized Mosfet Unit™.
The E.T.S.™ is easy to install and easy to program, detailed instructions are provided with the product. Unexperienced users are supported by on-line tutorials.
With the E.T.S.™ you can easily program how your gun will shoot, you'll be able to program your rifle to shoot a burst of 3 BB's or any other number of BB's from 1 to 250, this means you'll also be able to set your gun to be semi auto only or to limit the amount of BB's shot with one trigger pull to simulate the use of low capacity magazines, it is up to you to decide, the software doesn't give you any limitation.
With the E.T.S.™ your Lipo battery is safe, no more damages, no more ballon as the result of over-discharging. The E.T.S.™ incorporates a programmable Lipo Protection function, you can protect your 7.4V, 11.1V or even 14.8V batteries!
Returning to the gun's standard operation is as easy as program it.
Replacing your standard trigger with the Evolution Airsoft's E.T.S.™ you'll also say good-bye to the burned switches problem as the current will flow through a very powerful Oversized Mosfet Unit™ that can be placed inside the buffer tube or even inside the gearbox as its design has been optimized to be very compact.
The E.T.S.™ is sold as a complete unit with the Oversized Mosfet™ and everything you need to install it, or alone, in case your gun already has a mosfet installed, as the E.T.S.™ software is capable to drive also third party mosfets.
The E.T.S.™ has been completely designed, manufactured and quality controlled in Italy, and as a premium feature it comes in a mini custom hardcase manufactured on purpose for Evolution Airsoft by Negrini, the Italian signature hard case manufacturer.
Video tutorials
E.T.S.™ Electronic Trigger System Technical Specs
Programmable burst 1-250 shots
Digital trigger switch
Digital cut-off sensor
Digital safety
Shortened trigger stroke
Operating tension 7.4V – 14.8V
Programmable Li-Po protection function 2-3-4 cells
Compatible with any Mosfet
Designed and Made in Italy
Oversized Mosfet Unit™ Full setTechnical Specs
Higher rate of fire
Faster trigger response
No battery drain
Over engineered Mosfet Unit
Compact size, can be placed inside the gear box
Drop-in installation on most V2 gearboxes
Operating tension 7.4V – 14.8V
Designed and Made in Italy
Accessories
Airsoft Accessories
We believe in innovation so when we decided to enter the air soft gun accessories market we did it starting right from where the others fail, working around those small details that make a part more durable and reliable.
Explore the Evolution Airsoft accessories range and discover innovative and unique products like our self lubricant gears, our AK1000Rd Flash Magazine or the high performance of our made in Italy Power Springs.
TangoDown licensed accessories
Li-Po, Gas & Maintenance
Li-Po Ultra Power
The New Evolution Airsoft Li-Po Ultra Power Batteries
Evolution Airsoft has just released their new line of Ultrapower Batteries, an extensive line of high performance batteries designed for those customers that don't need just a battery but require top perfomance in any situation.
Powerful! The new 7.4V and 11.1V LiPo batteries feature compact dimensions but at the same time are very powerful thanks to the high power density.
With their 40 C peak discharge they can instantly deliver the current demanded by any type of motor, even on super-tuned air soft guns.
Great choice. The new battery range includes batteries of multiple sizes, shapes and configuration in order o be able to fit any air soft gun on the market.
Gas & Maintenance
Gas & Maintenance
The correct lubrication and the gas quality are key factors for the air soft guns performance and the duration of the sealing o-rings.
Evolution Airsoft developed a line of High Pressure Gas (HPG) to meet the needs of the most demanding air soft players, in particular of those who compete in IPSC race gun competitions.
The Evolution Airsoft gas is free from impurities and in its original formula contains a percentage of silicone oil.
The use of the Evolution Airsoft gas and the regular cleaning and maintenance with the Evolution Airsoft Silicone Oil and Teflon Grease improves the performance and extends the air soft guns service life.