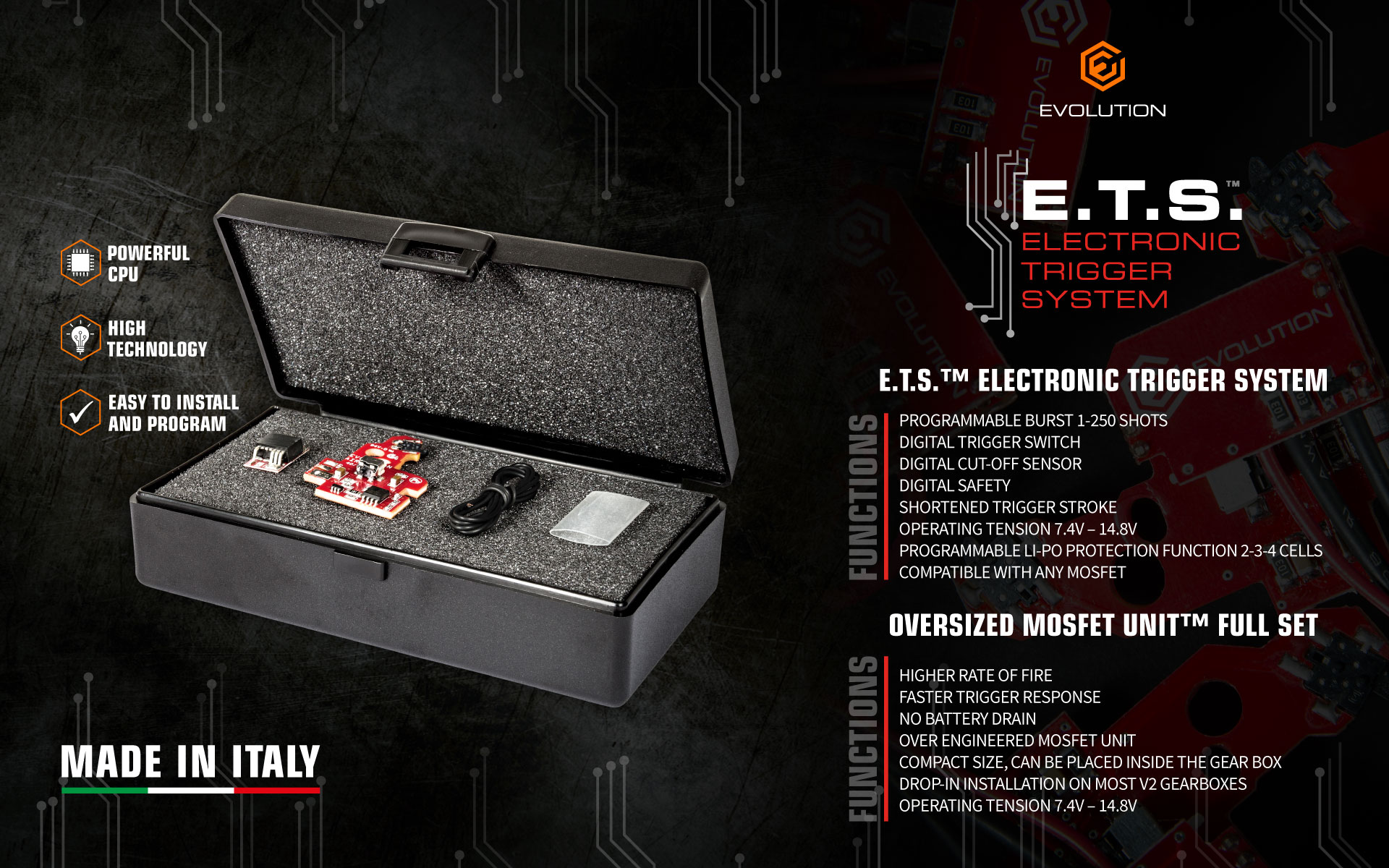 E.T.S.™ Electronic Trigger System
E.T.S.™ Electronic Trigger System Technical Specs
Programmable burst 1-250 shots
Digital trigger switch
Digital cut-off sensor
Digital safety
Shortened trigger stroke
Operating tension 7.4V – 14.8V
Programmable Li-Po protection function 2-3-4 cells
Compatible with any Mosfet
Designed and Made in Italy
Oversized Mosfet Unit™ Full Set Technical Specs
Higher rate of fire
Faster trigger response
No battery drain
Over engineered Mosfet Unit
Compact size, can be placed inside the gear box
Drop-in installation on most V2 gearboxes
Operating tension 7.4V – 14.8V
Designed and Made in Italy
E.T.S.™ Electronic Trigger System
The Evolution Airsoft E.T.S.™ is an advanced device using state of the art technology compatible with most V2 gearboxes without the need of any modification.
Before its release in almost 2 years of developement it went through a number of improvements and modifications from its original design and the version we are now releasing is actually the Third Generation with several hardware improvements and V5.2.3 software run by our very powerful CPU and supported by our Oversized Mosfet Unit™.
The E.T.S.™ is easy to install and easy to program, detailed instructions are provided with the product. Unexperienced users are supported by on-line tutorials.
With the E.T.S.™ you can easily program how your gun will shoot, you'll be able to program your rifle to shoot a burst of 3 BB's or any other number of BB's from 1 to 250, this means you'll also be able to set your gun to be semi auto only or to limit the amount of BB's shot with one trigger pull to simulate the use of low capacity magazines, it is up to you to decide, the software doesn't give you any limitation.
With the E.T.S.™ your Lipo battery is safe, no more damages, no more ballon as the result of over-discharging. The E.T.S.™ incorporates a programmable Lipo Protection function, you can protect your 7.4V, 11.1V or even 14.8V batteries!
Returning to the gun's standard operation is as easy as program it.
Replacing your standard trigger with the Evolution Airsoft's E.T.S.™ you'll also say good-bye to the burned switches problem as the current will flow through a very powerful Oversized Mosfet Unit™ that can be placed inside the buffer tube or even inside the gearbox as its design has been optimized to be very compact.
The E.T.S.™ is sold as a complete unit with the Oversized Mosfet™ and everything you need to install it, or alone, in case your gun already has a mosfet installed, as the E.T.S.™ software is capable to drive also third party mosfets.
The E.T.S.™ has been completely designed, manufactured and quality controlled in Italy, and as a premium feature it comes in a mini custom hardcase.