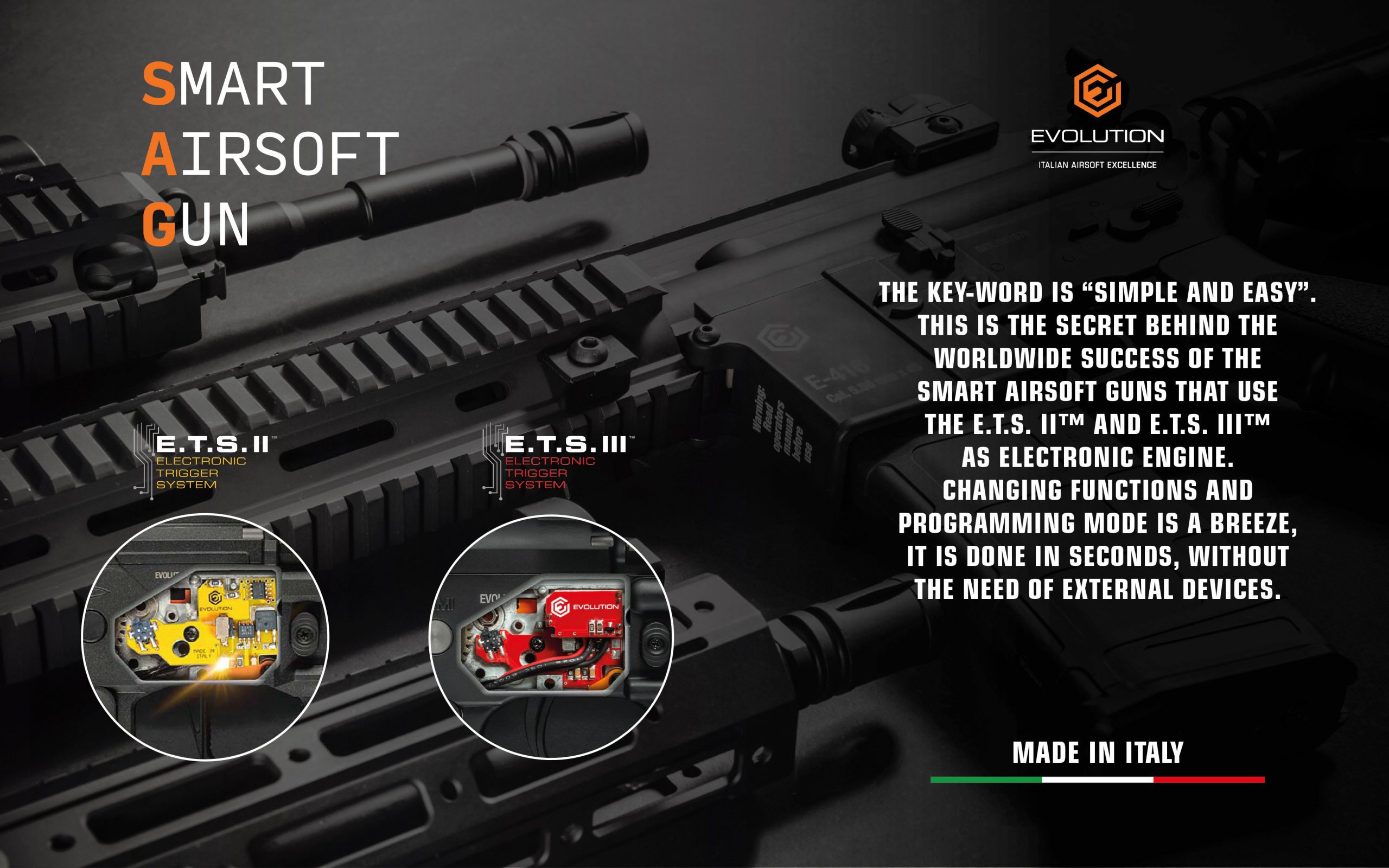 The history of the Evolution Smart Airsoft Guns dates back at the beginning of 2011 when Evolution International was the first airsoft guns manufacturer to release a line of airsoft guns equipped out of the box with a programmable electronic trigger unit (the E.T.S. I), since then the platform evolved several times with the addition of more powerful processors, hardware and firmware upgrades, and with the addition of more and more advanced functions. The architecture of the E.T.S. II™ and E.T.S. III™ is deeply different than the one of the first E.T.S. I  but always following the original concept: keeping the unit super easy and fast to use with zero learning time for the end user.
We talk about Smart Airsoft Gun concept as the technology behind the Evolution's Airsoft Guns reached a so high level of complexity and sophistication that we cannot anymore talk about Electric Airsoft Guns, we should call them Electronic Airsoft Guns but that would be reductive as the amount of technology and the design and development process is more similar to the one of a Mobile Phone than the one of an airsoft product, with CPUs, EPROMs, Operating Systems, Encoding Languages, and so on, so we now refer to this new guns category as Smart Airsoft Guns.
We decided to push the air soft guns to the next level, so we factory-installed our most powerful programmable trigger system, the E.T.S.III™in our new Hardcore Full Metal guns!
Endless possibilities of different functions and configurations
No additional software required
No external programming unit required
No PC connection or Apps required
The Evolution Smart Airsoft Guns are super-easy to program via trigger. Fast, easy and trouble-free!