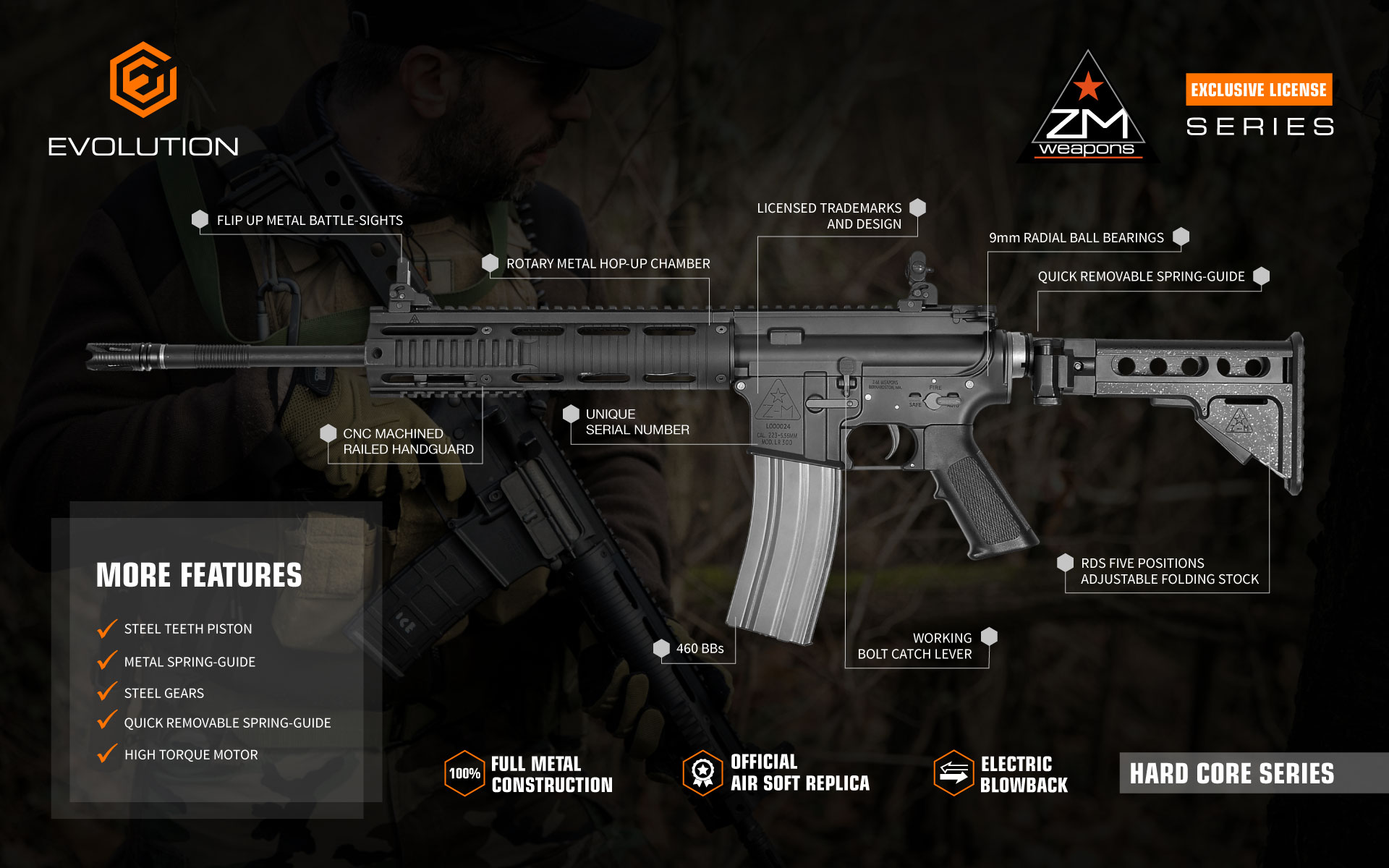 Evolution Z-M Weapons air soft guns
Technical Specs
Licensed trademarks and design
Electric blowback (depending on the model)
Unique serial number
Full metal construction
Flip up metal battle-sights
CNC machined railed handguard
RDS five positions adjustable folding stock
Two positions adjustable blowback system (depending on the model)
CNC one piece outer barrel
Working bolt catch lever
High Torque motor
Steel gears
Steel teeth piston
Metal spring-guide
Quick removable spring-guide
9mm radial ball bearings
Rotary metal hop up chamber
460 BB magazine
Designed for 9,6V NiMH / LiPo Ready
Designed in Italy
Z-M Weapons
Z-M Weapons, USA is the manufacturer of the legendary LR-300, the first major break-through in the firearms industry in the last 50 years. The LR-300 is the most versatile AR style tactical rifle designed for Special Forces.
About the series
As the first release under the Hardcore Series, Evolution International S.r.l. chose the legendary LR-300 as in the real guns world the LR-300 is the same superior-class product as the Hardcore Series are in the airsoft world.
The Evolution Airsoft LR-300 has been designed and developed in Italy by Evolution International S.r.l. starting from the real LR-300 blueprints.
It offers the ultimate realism featuring worldwide exclusive licensed trademarks and design, unique serial number and a real full metal construction for ultimate durability.
The only plastic parts are in fact the pistol grip and the butt-plate, while all other parts are made of aluminum, several of which cnc machined from billet.
For the most exciting and realistic shooting experience the LR-300 features a patented Electric Blowback mechanism which fully replicates the action of the real LR-300 DIGS® system.
(Available also Non-Blowback version)
Licensed Masterpiece
The Evolution Airsoft Hardcore Series LR-300 is the official airsoft replica of the real LR-300, produced under worldwide exclusive license granted to Evolution International S.r.l. by Z-M Weapons, U.S.A.
The LR-300 features exactly the same logos and trademarks as the real gun counterpart whose design has been accurately reproduced in the airsoft version using the real gun blueprints and taking measurements directly on the real LR-300.
We can easily say that the Evolution Airsoft LR-300 is the most detailed and realistic airsoft replica today available on the market.
Click here to see our other air soft guns