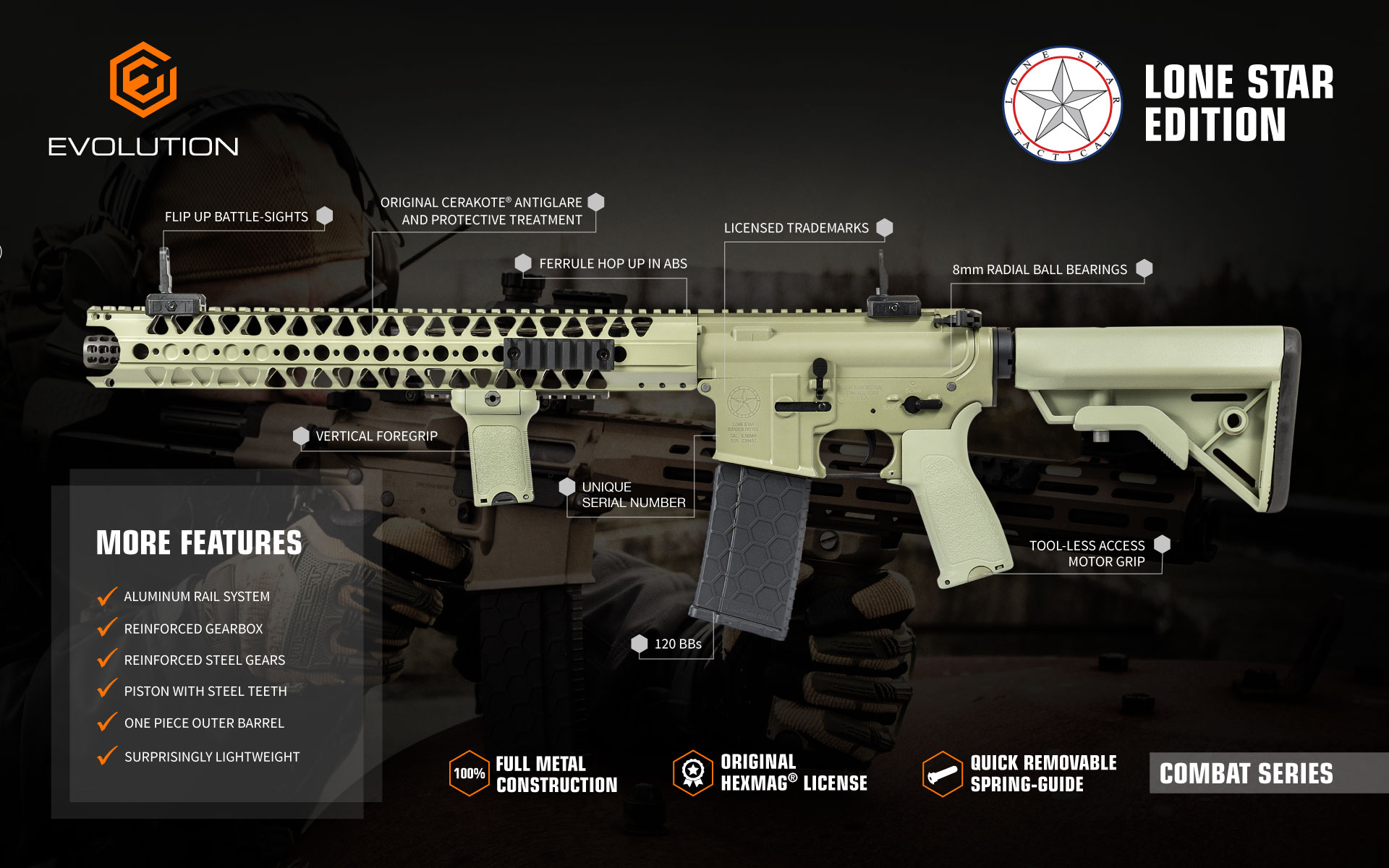 Evolution Combat Lone Star Edition air soft guns
Technical Specs
Licensed trademarks
Unique serial number
Original Cerakote® antiglare and protective treatment
Water Transfer treatment
Full metal
High torque motor
Flip up battle-sights
Aluminum rail system
Outer barrel unique piece
Precision inner barrel 6.01
Thanks to the aluminum quality, the replica is surprisingly lightweight
Ferrule Hop Up in ABS, perfect for low temperatures
Standard delayer
Reinforced gear box
Reinforced steel gears
Piston with steel teeth
Gear box with quick detach spring guide, accessible by removing the buffer tube
8mm radial ball bearings
Innovative grip that allows reaching the motor with no additional tool
120 BB midcap magazine with original Hexmag® license
Lipo Ready
About the series
The new Evolution Combat – Lone Star Edition air soft guns come with real Cerakote® finish, the special coating for real guns made using ceramic particles.
Each gun is delivered with a genuine Hexmag® licensed 120BB midcap magazine. The Hexmag magazines are made under exclusive license.
The finish and detail level of these guns are impressive.
All air soft guns are full metal and feature the real gun markings of Lone Star Tactical, U.S.A. used under worldwide exclusive license.
In the special color models the Cerakote finish is applied also on the pistol grip, vertical foregrip and retractable stock for a perfect color matching.
This new air soft guns line includes short barrel rifles, middle length rifles, and as the new trend wants, very long barrel rifles.
The Evolution Combat air soft guns are a great value for money products and come with a load of extra accessories included as standard. Each gun comes with extra sights, vertical grip, extra rails and Keymod accessories.
Customers can choose from a big variety of Cerakote colors: Knights Armament Tan, Magpul Tan, Warsport Green, Wolf Grey, and for an increased realism all come with magazine catch lever, charging handle, bolt release lever finished in Cerakote Cobalt Black.
Various models are available in an exclusive water transfer camo pattern.
A great technical innovation is the new fast detach system that allows full access to the motor without any tool.
In the same way for a quick spring change it is just enough to remove the buffer tube without taking out the gearbox from the body.
Click here to see our other air soft guns