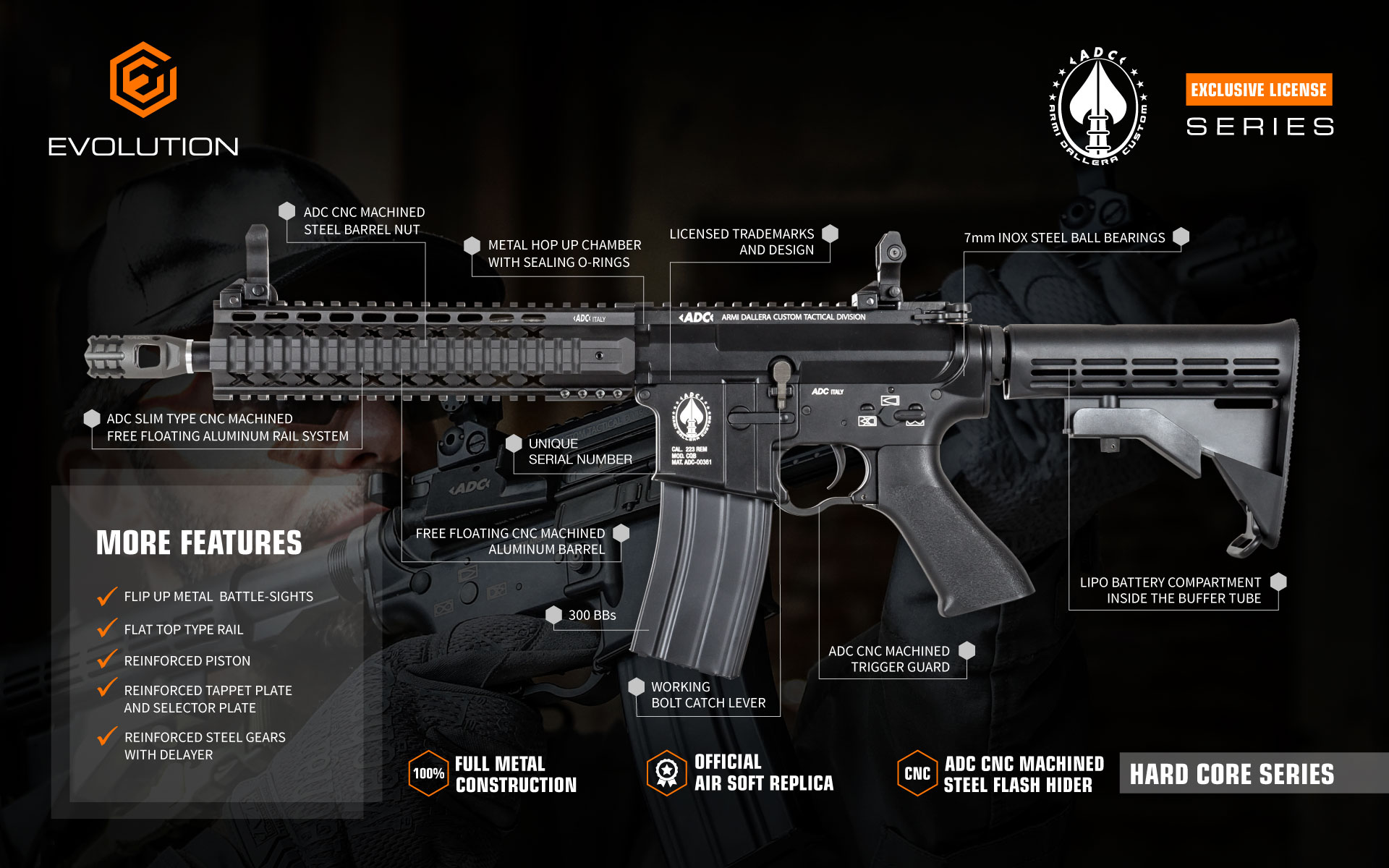 Evolution ADC Armi Dallera Custom air soft guns
Technical Specs
Licensed trademarks and design
Unique serial number
Designed in Italy
Full metal construction
CNC machined steel flash hider
Slim type CNC machined free floating aluminium rail system
CNC machined steel barrel nut
CNC machined trigger guard
Free floating CNC machined aluminium barrel
Flip up metal battle-sights
Flat top type rail
Lipo powered (not included)
Lipo battery compartment inside the buffer tube
Working bolt catch lever
O-Ring sealed metal hop up chamber
Reinforced steel gears with delayer
7mm inox steel ball bearings
Reinforced tappet plate
Reinforced selector plate
Reinforced piston
300 BB magazine
ADC Armi Dallera Custom
ADC Armi Dallera Custom, Italy. Worldwide renowned manufacturer of "Special Duty" firearms. Tailor made guns and parts for special purposes are designed and built to meet the strict specifications of the Special Operations guys and famous shooting champions.
About the series
If you are looking for the best in guns making you have found the right company.
ADC Armi Dallera Custom S.r.l. is a leading European manufacturer of custom guns, born from the needs to produce high precision handguns for those professional and non professional users who are looking for the maximum performance possible from a firearm.
The ADC production ranges from race pistols to self defense handguns and tactical weapons for special duties.
It is from the cooperation between Evolution Airsoft and ADC Armi Dallera Custom that the world of airsoft and real guns met together bringing to life the ADC professional air soft guns series.
Click here to see our other air soft guns