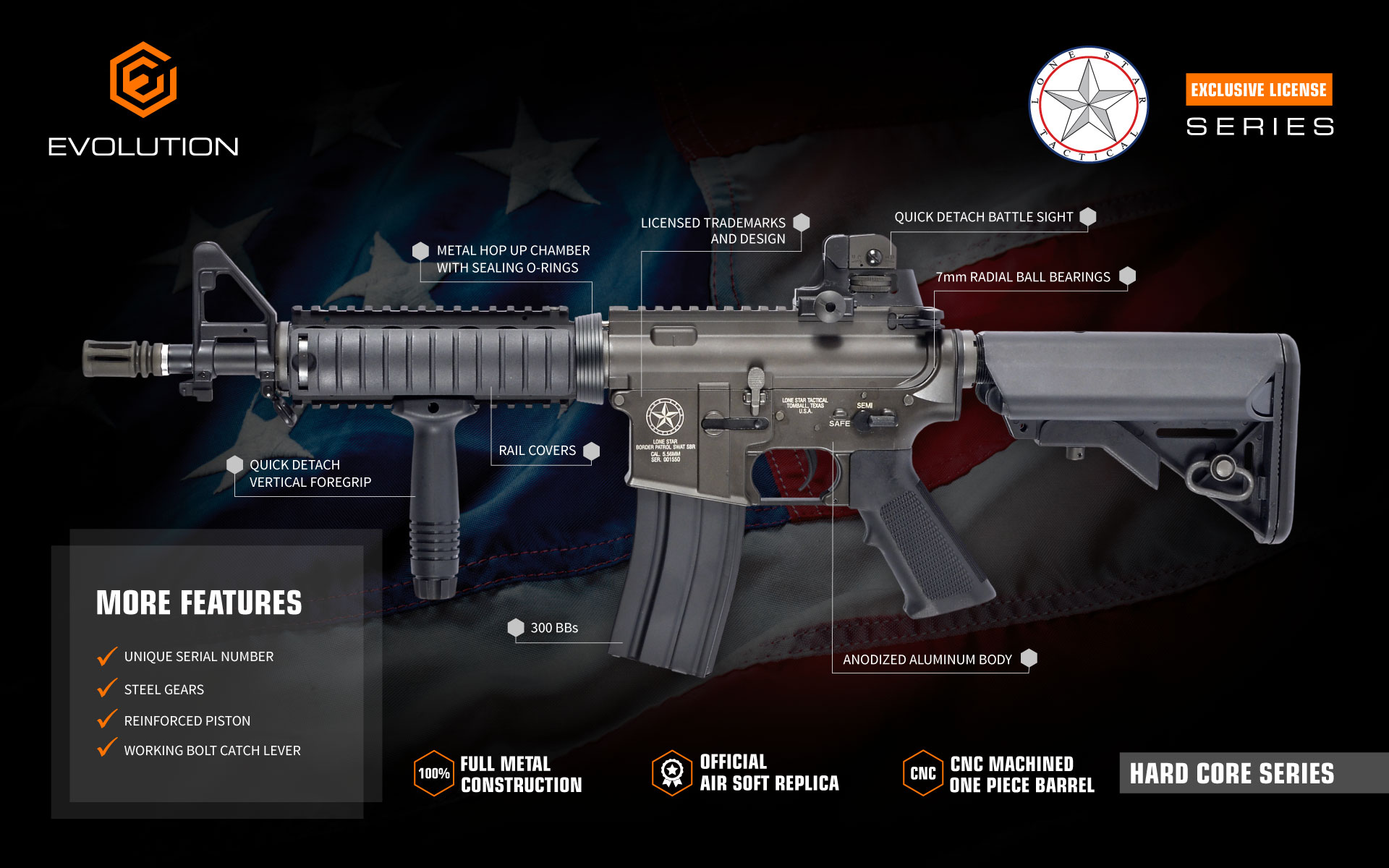 Evolution Lone Star air soft guns
Technical Specs
Licensed trademarks and design
Unique serial number
Full metal construction
Anodized aluminium body
Real gun flash hider colour
CNC machined / stamped steel rail system
Carbon reinforced handguard with internal heat shields
Vertical foregrip
CNC one piece barrel
Working bolt catch lever
Reinforced gearbox
High Torque motor
Reinforced steel gears
Sector gear delayer
7mm radial ball bearings
Variable pitch spring with special coating
High strength tappet plate
Top quality trigger switch and wirings
Reinforced piston with vacuum piston head
O-Ring sealed metal hop up chamber
Evolution E.T.S.™ Electronic Trigger System included (depending on the model)
Evolution Oversized Mosfet™ included (depending on the model)
300 BB Magazine
Lone Star Tactical
Lone Star Tactical, USA. Founded by shooters for shooters, based in Texas, brings innovative products to the market with the intention of giving 100% satisfaction to the customers with everything they offer. Very successful their Border Patrol and SWAT series.
About the series
The Evolution Airsoft Hardcore Series Lone Star Tactical are the official airsoft replica of the real Lone Star tactical rifles produced under worldwide exclusive license granted to Evolution International S.r.l. by Lone Star Tactical supply.
The Lone Star Tactical series features exactly the same logos and trademarks as the real gun counterpart whose design has been accurately reproduced in the airsoft version.
Click here to see our other air soft guns