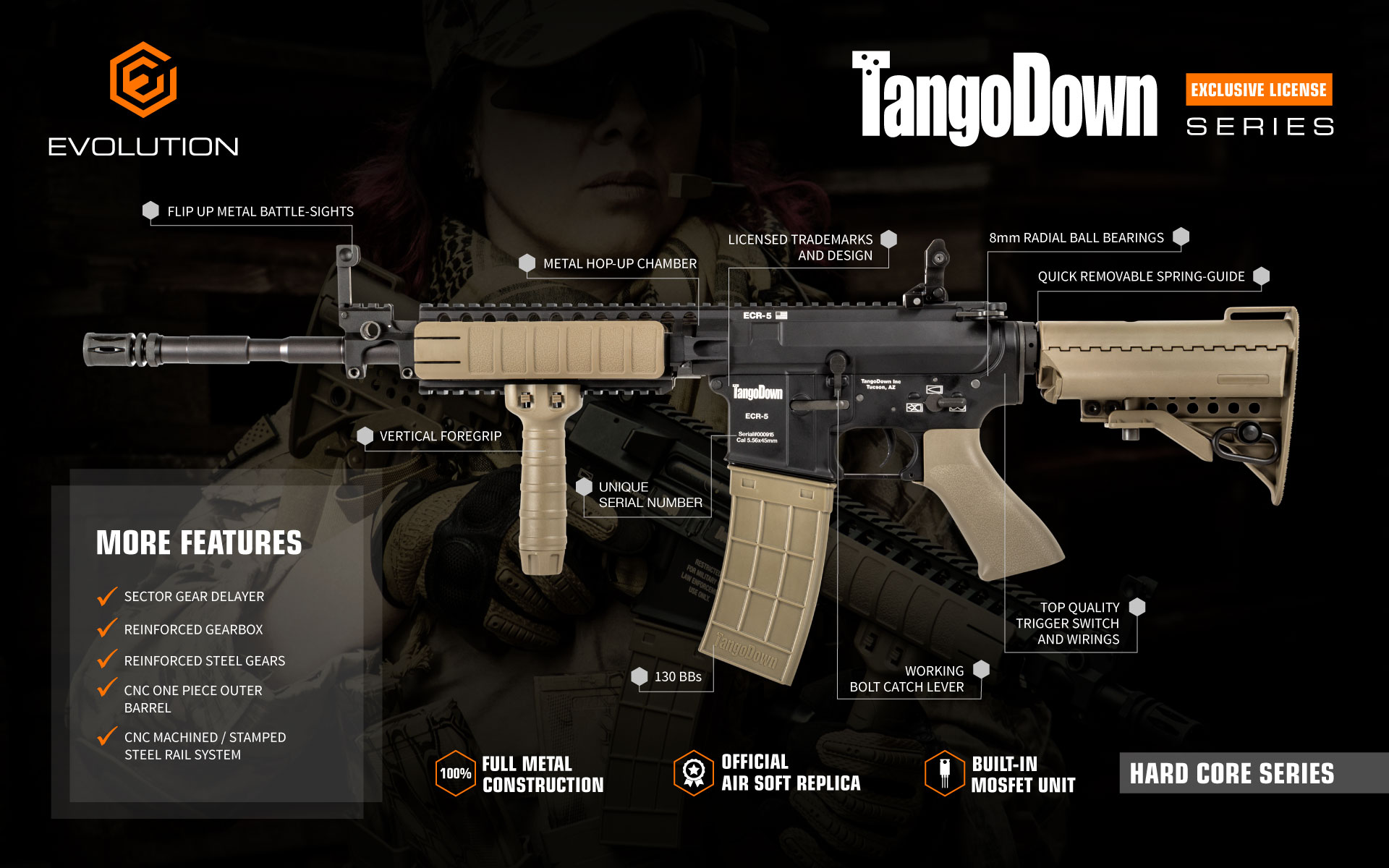 Evolution TangoDown air soft guns
Evolution TangoDown accessories
Technical Specs
Licensed trademarks and design
Unique serial number
Full metal construction
Anodized aluminium body
Vertical foregrip
CNC machined / stamped steel rail system
CNC one piece outer barrel
Working bolt catch lever
Reinforced gearbox
High Torque motor
Reinforced steel gears
Sector gear delayer
8mm radial ball bearings
Variable pitch spring with special coating
High strenght tappet plate
Top quality trigger switch and wirings
Reinforced piston with vacuum piston head
O-Ring sealed metal hop up chamber
Built-in mosfet unit
Quick removable spring-guide
130 BB magazine
LiPo ready
TangoDown
TangoDown Inc. enjoys over ten years of bringing the highest quality products to United States Armed Forces and Law Enforcement.
Their reputation for unique design and quality manufacturing of weapon components has earned TangoDown Inc. first choice when it comes to stepping into arms way.
TangoDown® constantly shoot, train and listen to operator's needs.
Their goal is to make the warrior's weapon lighter and more efficient, whether a pistol, carbine or belt fed machine gun.
About the series
Evolution Airsoft has entered in a worldwide exclusive licensing agreement with TangoDown® Inc. and is proud to bring to the Air Soft world the replicas of the TangoDown ECR (Enhanced Combat Rifle).
With the TangoDown ECR series Evolution Airsoft introduces a new type of gearbox in their products line. The new gearbox comes standard with an Integrated Mosfet Unit and Quick Removable Spring Guide.
The Mosfet Unit increases the duration and reliability of the trigger switch eliminating the problems caused by the "electric arc" which is typical of standard trigger unit designs. At the same time the more efficient electric flow management increases the Rate of Fire.
The Quick Removable spring guide, which is accessible in seconds by simply removing the buffer tube, allows the immediate access to the main spring without the need of taking out the gearbox from the receiver.
As it is standard on any Evolution Airsoft gun all internal components are pre-upgraded, all key parts like the outer barrel are made of one piece cnc machined from billet, and the realism and attention to details is pushed to the next level.
Everything packed in a top quality box that is beautiful as the gun inside!
A letter from TangoDown Inc.
We are extremely glad to receive and publish this letter from the President and CEO of TangoDown® Inc.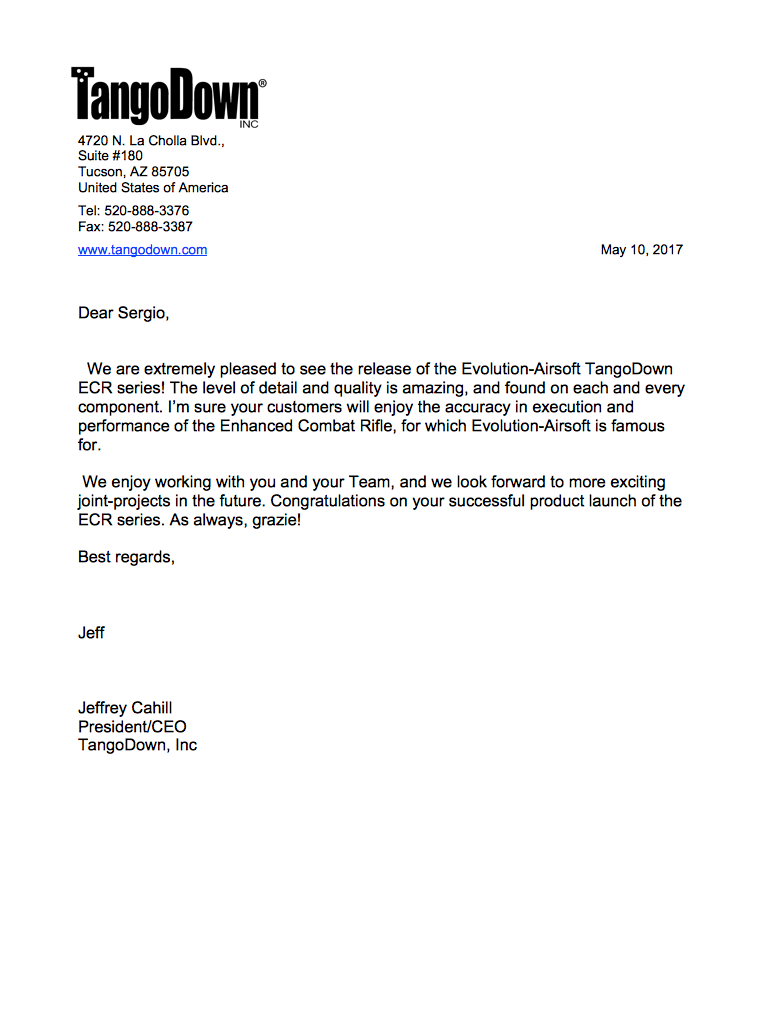 Click here to see our other air soft guns