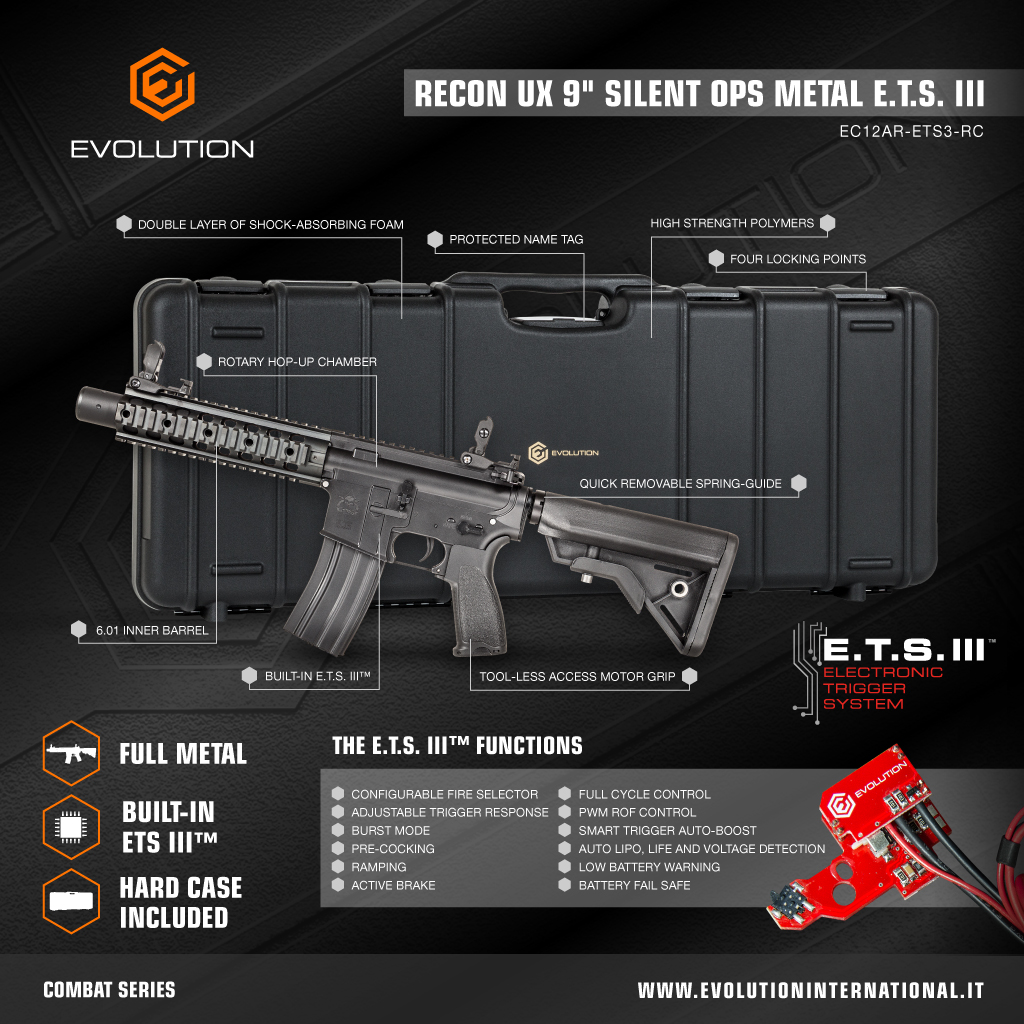 A dream gun
Equipped out of the box with the powerful E.T.S.III made in Italy
Endless possibilities of electronic trigger configurations
Real gun trigger response
Comes in a military grade hard case made in Italy
Full metal with QD access to main spring and motor
The new Recon UX 9" Silent Ops Metal E.T.S. III is the most advanced stock rifle today available on the market!
It comes with the E.T.S. III programmable electronic trigger pre-installed in a cool military grade rifle case.
The E.T.S. III unit is made in Italy and is one of the most powerful electronic triggers available on the market, it is very easy to use and with endless possibilities of configuration. It incorporates two powerful A/B mosfets and a very powerful CPU, the shooting exprerience will be smooth and crisp like on a real gun.
The E.T.S. III™ functions
Configurable Fire Selector
Adjustable Trigger Response
Burst Mode
Pre-cocking
Ramping
Active Brake
Full Cycle Control
PWM ROF Control
Smart Trigger Auto-Boost
Auto LiPo, LiFE and Voltage detection
Low battery warning
Battery fail safe
The functions are independently assignable to the SEMI and AUTO selector position and can be combined together with endless possibilities of combinations.
A semi auto only version is available for the german market.
The military grade hard case the gun comes in is made in Italy, using a very strong high impact polymer, featuring a beautyful non-reflective finish, 4 strong locking points, two protective name tags and internally fitted with two layers of high density shock absorbing foam.
A few more technical specs it worths to mention
Full metal body
6.01 precision inner barrel
Cnc machined one piece outer barrel
Cnc machined buffer tube
Rotary type hop up chamber
Motor grip with tool-less access to the motor
Quick removable spring guide from the buffer tube