Airsoft International Magazine, Volume 17 Issue 12, March 2022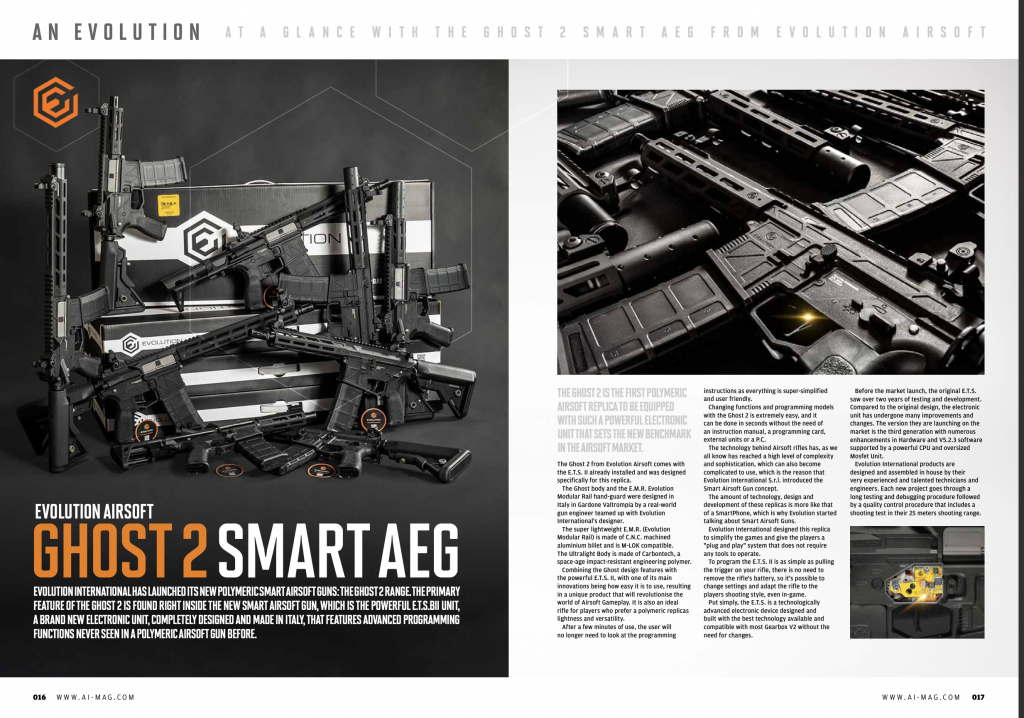 GHOST 2 SMART AIRSOFT GUN
EVOLUTION INTERNATIONAL HAS LAUNCHED ITS NEW POLYMERIC SMART AIRSOFT GUNS: THE GHOST 2 RANGE. THE PRIMARY FEATURE OF THE GHOST 2 IS FOUND RIGHT INSIDE THE NEW SMART AIRSOFT GUN, WHICH IS THE POWERFUL E.T.S.BII UNIT, A BRAND NEW ELECTRONIC UNIT, COMPLETELY DESIGNED AND MADE IN ITALY, THAT FEATURES ADVANCED PROGRAMMING FUNCTIONS NEVER SEEN IN A POLYMERIC AIRSOFT GUN BEFORE.
THE GHOST 2 IS THE FIRST POLYMERIC AIRSOFT REPLICA TO BE EQUIPPED WITH SUCH A POWERFUL ELECTRONIC UNIT THAT SETS THE NEW BENCHMARK IN THE AIRSOFT MARKET.
The Ghost 2 from Evolution Airsoft comes with the E.T.S. II already installed and was designed specifically for this replica.
The Ghost body and the E.M.R. Evolution Modular Rail hand-guard were designed in Italy in Gardone Valtrompia by a real-world gun engineer teamed up with Evolution International's designer.
The super lightweight E.M.R. (Evolution Modular Rail) is made of C.N.C. machined aluminium billet and is M-LOK compatible.
The Ultralight Body is made of Carbontech, a space-age impact-resistant engineering polymer.
Combining the Ghost design features with the powerful E.T.S. II, with one of its main innovations being how easy it is to use, resulting in a unique product that will revolutionise the world of Airsoft Gameplay. It is also an ideal rifle for players who prefer a polymeric replicas lightness and versatility.
After a few minutes of use, the user will no longer need to look at the programming instructions as everything is super-simplified and user friendly.
Changing functions and programming models with the Ghost 2 is extremely easy, and it can be done in seconds without the need of an instruction manual, a programming card, external units or a P.C.
The technology behind Airsoft rifles has, as we all know has reached a high level of complexity and sophistication, which can also become complicated to use, which is the reason that Evolution International S.r.l. introduced the Smart Airsoft Gun concept.
The amount of technology, design and development of these replicas is more like that of a SmartPhone, which is why Evolution started talking about Smart Airsoft Guns.
Evolution International designed this replica to simplify the games and give the players a "plug and play" system that does not require any tools to operate.
To program the E.T.S. II is as simple as pulling the trigger on your rifle, there is no need to remove the rifle's battery, so it's possible to change settings and adapt the rifle to the players shooting style, even in-game.
Put simply, the E.T.S. is a technologically advanced electronic device designed and built with the best technology available and compatible with most Gearbox V2 without the need for changes.
Before the market launch, the original E.T.S. saw over two years of testing and development. Compared to the original design, the electronic unit has undergone many improvements and changes. The version they are launching on the market is the third generation with numerous enhancements in Hardware and V5.2.3 software supported by a powerful CPU and oversized Mosfet Unit.
Evolution International products are designed and assembled in house by their very experienced and talented technicians and engineers. Each new project goes through a long testing and debugging procedure followed by a quality control procedure that includes a shooting test in their 25 meters shooting range.