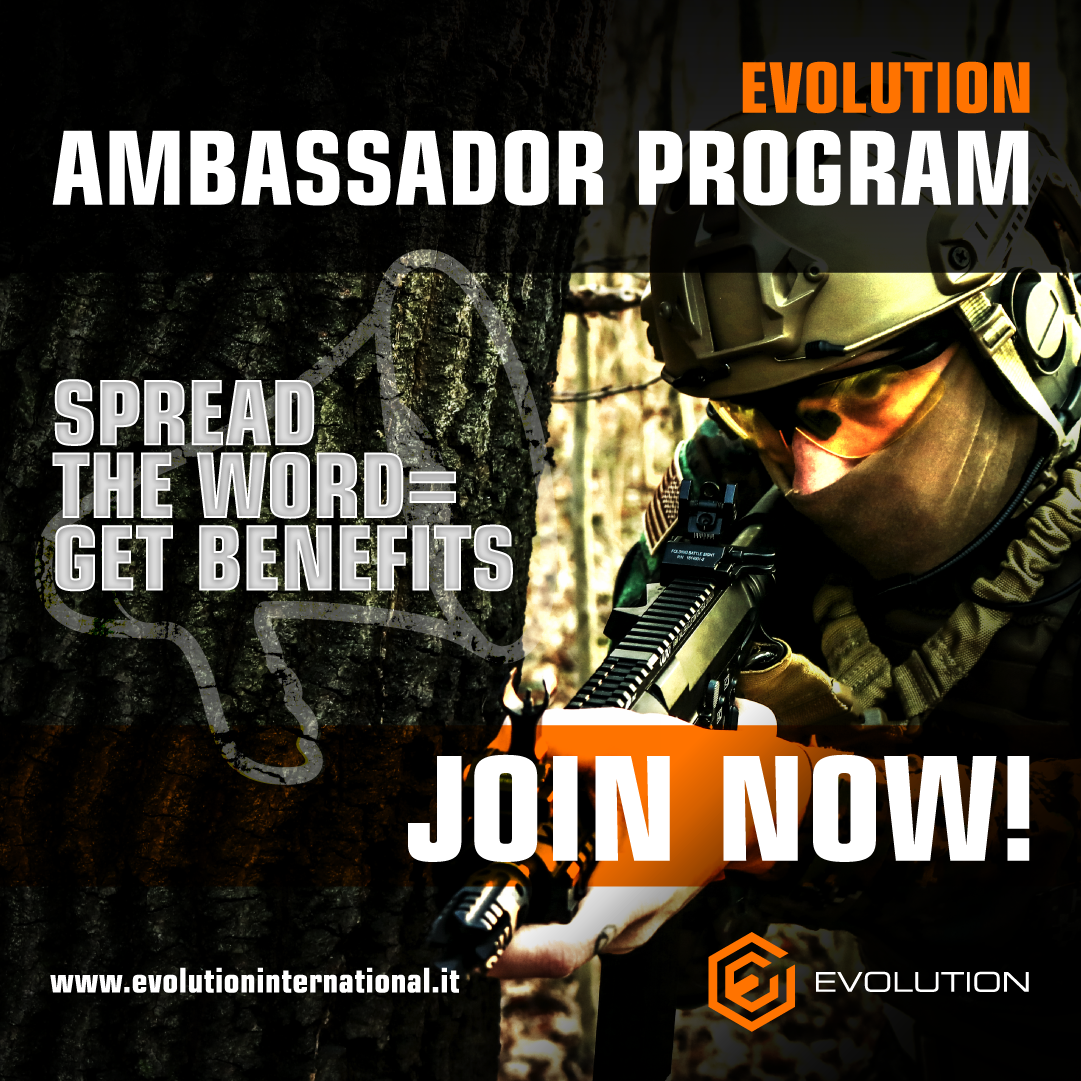 The Evolution Ambassador Program
We're looking for creative air soft players who are ready to go into battle with our superb products, and have big mouths to tell their friends where they got them. You gotta have active social media accounts, and gotta do cool stuff. We need you on YouTube, Twitter, Instagram, Facebook and on the game field.
The program
As an Evolution Ambassador you will be representing our brands and telling everybody how awesome they are. You'll get the chance to know all the cool news first, try out new stuff first, get benefits for you and your followers and fans.
What we will look for?
Our ideal candidate is active, energetic and hard-working, with a strong engagement in a variety of social organizations in or around the industry we are in (camouflage, airsoft, paintball, hunting, shooting, guns, outdoor activities…). We look for individuals that are active in many different social circles. Being a leader among your peers in terms of involvement and influence carries significant weight.
A successful brand ambassador is expected to do the following
Drive traffic to the www.evolutioninternational.it website
Help to increase Instagram 'Followers' and Facebook 'Likes' of our official profiles
Work to build a solid relationship between Evolution, the retailers, and the local airsoft community
Help increasing the air soft players awareness of the Evolution brand
Have fun spreading the Evolution's story on the social networks and on the game field
What benefit do you get?
You'll get the special access to special contents and be the first to know all the cool news, try out new product and get benefits for you and your followers and fans.
We will choose selected Ambassadors on the basis of their activity and will each receive shipments that will contain patches, stickers, caps, posters, banners, or even rifles or accessories to review, depending on how good the Ambassador is doing.
Get Free products as long as we cooperate!
All our selected ambassadors will continue receiving freebies and benefits for free!
HOW CAN I JOIN THE EVOLUTION AMBASSADOR PROGRAM?
Please read this part carefully!
1. Send your application as an Evolution Brand Ambassadror using the application form you find at this address http://eepurl.com/dbT3WP
2. Go to www.evolutioninternational.it and using the content provided in our website and on our facebook page at facebook.com/EvolutionAirsoftItalia and our Instagram profile instagram.com/evolution_airsoft_official/ explain your fans what is EVOLUTION, what can they do with such awesome products and tag us on all of your channels. If you have Evolution products on hand, make reviews or pictures with them. If you are a member of a group about Airsoft on the social networks talk about Evolution in the discussions. Add to all your activity which involves Evolution your Unique Hashtag # you included in the application form (tip: make sure the hashtag is really unique and not already used). This way we will see your writing and marketing skills and measure your community reach. Don't forget to include your Unique Hastag, otherwise we'll not be able to find you on the web. Don't forget to tag us to allow us to know in real time what you are doing as an Ambassador.
We will then review and evaluate your application. Our Ambassador spots are limited and we'll only be choosing a select few to be a part of our Team. If you are approved for your ambassador application, you will be notified.
Want to become an Evolution Ambassador?