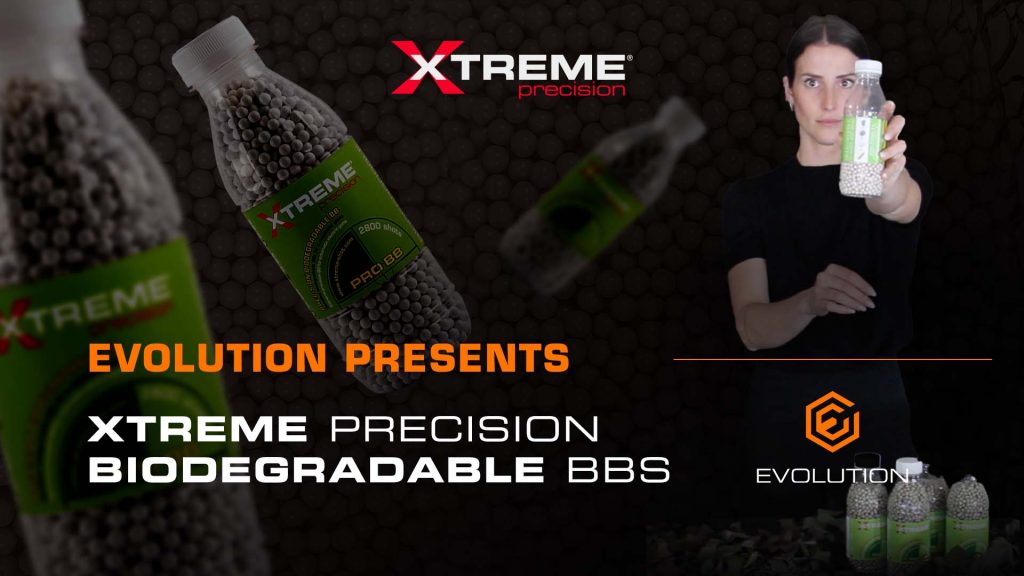 EVOLUTION Airsoft Xtreme Precision®️Biodegradable BB's
has been first Evolution International Brand to be launched on the market more than 15 years ago and we were the pioneers in the field of Biodegradable BB's by applying production techniques that were science fiction at the time.
At the time, organic pellets were made of sugar, wax or other materials that had a lot of problems: they melted, damaged the magazines or cracked in the barrels, Airsoft players were very wary of using Bio BB's. Evolution was one of the first companies to produce PLA BB's: a natural biodegradable polymer rapidly degradable in compost. 
No more BB's melting in your hands, jamming in your barrel or breaking in the magazines. The Xtreme Precision Biodegradable BB's feature the same precise size, perfect roundness, balance, smooth and shiny surface that have made the Xtreme Precision the most famous BB's Brand worldwide.
A big variety of BB's on the market is claimed to be biodegradable but a very few brands are supported by valid lab tests.
The Xtreme Precision®️ "Precision Biodegradable BB's" are supported by multiple test analysis performed by prestigious and world-wide renowned test labels in order to certify their compliance with all applicable standards.
The Xtreme Precision®️ "Precision Biodegradable BB's" are certified by the Italian indipendent Test Lab CSI (IMQ Group) to be BIODEGRADABLE, and by the German test lab TÜV Rheinland to ensure compliance with all EUROPE standards.
The Xtreme Precision®️ Biodegradable BB's are basically made of modified corn-starch combined with other biodegradable materials.
The corn-starch is modified in order to obtain heat-resistant properties, making this kind of material one of the only bioplastics capable of withstanding high temperatures.
This Biodegradable material is stable in the atmosphere but biodegrade in the natural environment and in general any-where microorganisms exist.
This biodegradable material can run on many existing injection molding lines and is currently used not only for the BB's but for a wide variety of applications in the plastic market and horticulture planters.
This type of biodegradable material, being based on corn-starch and others vegetable starch, is derived from a renewable resource.
Unlike plastic, this material can also be disposed of through incineration, resulting in non-toxic smoke and in a white residue which can be used as fertilizer.
Evolution International has made biodegradability its flag so much that we want to show BB's during the biodegradation process. We are so proud of the excellence of our Xtreme Precision that we show you this process on every package. In the video below we will show you what happens to Xtreme Precision Biodegradable BB's after leaving them in the ground so, this winter we put some of them in the ground and here you'll will see the result.