Airsoft Action Magazine, Volume 17 Issue 10, January 2022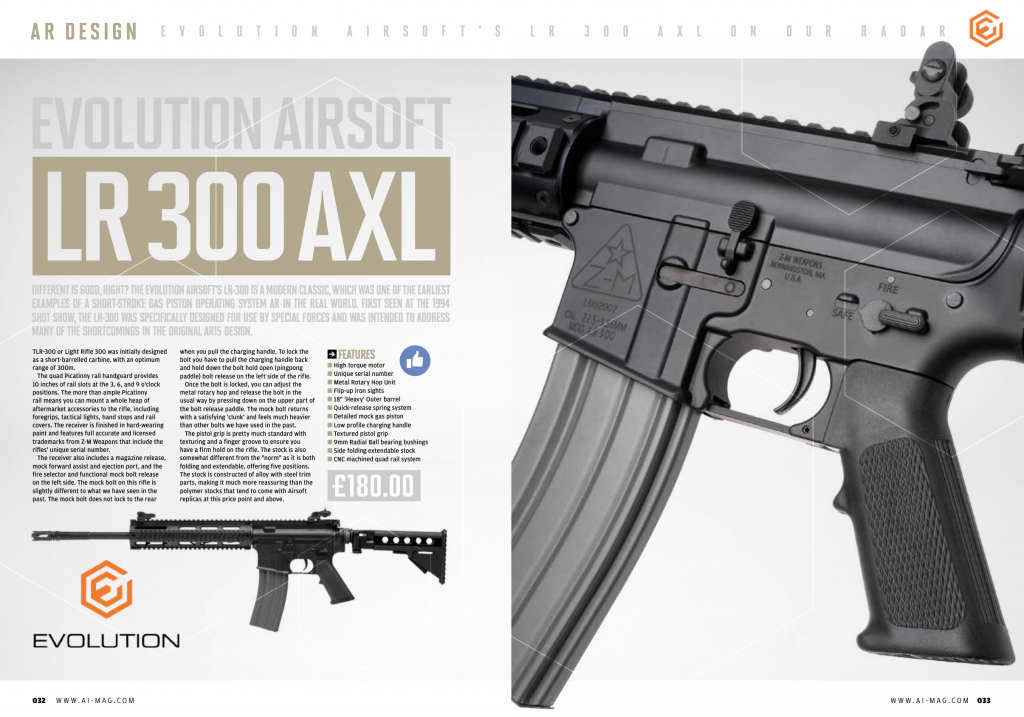 The Evolution Airsoft's LR-300 is a modern classic, which was one of the earliest examples of a short-stroke gas piston operating SYSTEM AR in the real World. First seen at the 1994 Shot Show, the LR-300 was specifically designed for use b y Special Forces and was intended to address many of the shortcomings in the original AR15 design.
LR-300 or Light Rifle 300 was initially designed as a short-barrelled carbine, with an optimum range of 300m. The quad Picatinny rail handguard provides 10 inches of rail slots at the 3, 6, and 9 o'clock positions. The more than ample Picatinny rail means you can mount a whole heap of aftermarket accessories to the rifle, including foregrips, tactical lights, hand stops and rail covers. The receiver is finished in hard-wearing paint and features full accurate and licensed trademarks from Z-M Weapons that include the rifles' unique serial number. The receiver also includes a magazine release, mock forward assist and ejection port, and the fire selector and functional mock bolt release on the left side. The mock bolt on this rifle is slightly different to what we have seen in the past. The mock bolt does not lock to the rear when you pull the charging handle. To lock the bolt you have to pull the charging handle back and hold down the bolt hold open (pingpong paddle) bolt release on the left side of the rifle. Once the bolt is locked, you can adjust the metal rotary hop and release the bolt in the usual way by pressing down on the upper part of the bolt release paddle. The mock bolt returns with a satisfying 'clunk' and feels much heavier than other bolts we have used in the past. The pistol grip is pretty much standard with texturing and a finger groove to ensure you have a firm hold on the rifle. The stock is also somewhat different from the "norm" as it is both folding and extendable, offering five positions. The stock is constructed of alloy with steel trim parts, making it much more reassuring than the polymer stocks that tend to come with Airsoft replicas at this price point and above.
FEATURES
■ High torque motor
■ Unique serial number
■ Metal Rotary Hop Unit
■ Flip-up iron sights
■ 18″ 'Heavy' Outer barrel
■ Quick-release spring system
■ Detailed mock gas piston
■ Low profile charging handle
■ Textured pistol grip
■ 9mm Radial Ball bearing bushings
■ Side folding extendable stock
■ CNC machined quad rail system